Twin Rocks: the "Stingray Airport"
Twin Rocks is one of the El Nido Best Dive Site. The reef houses some tremendous rock formations such as natural caverns and beautiful swim throughs. A must!
Twin Rocks: the "Stingray Airport"
It is called Twin Rocks because from the surface, the rock formation looks like two separated small islands. They are  actually connected underwater. Located on the North side of Miniloc island, near the famous Small Lagoo, this great dive site slopes from 13-21m and has a rich sandy bottom. This sandy area is inhabited by numerous blue spotted sting rays and ribbon tails. That's why Twin Rocks has been nicknamed the "Stingray Airport" by the Palawan Divers team.
Twin Rocks: A beautiful reef
Twin Rocks houses some tremendous and original rock formations such as a natural cavern and a beautiful swim through. It is also characterized by a profusion of table corals, sea whips and sponges. From December to March, Twin Rocks is the best dive site in El Nido to spot Ghost Pipefish. They are find in coral reef or muddy bottom, changing color and shape to minimize visibility. Our experienced divemasters and instructors know where to find the famous Ornate or Harlequin Ghost Pipefish.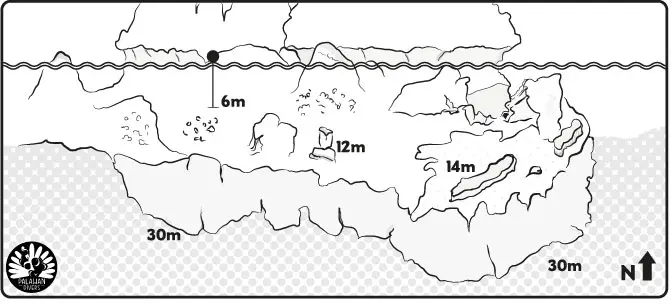 Twin Rocks: diving information
• Depth: 5-25 meters
• Viz: 10-30 meters
• Current: Full moon
• Getting there: 45 minutes by boat
• Best months: Nov-May
What you can see: Giant barrel sponge • Tree coral • Table Coral • Blue spotted stingray • Mantis shrimp • Reef octopus • Unicorn fish • Crocodile fish • Yellow tail barracuda • Spadefish fusilier • Sea turtle • Moray eel
If you are lucky: Ornate Pipefish • Bumphead Parrotfish • Eagle Ray