Twin Rocks Dive Site: "The Stingray Airport" in El Nido
Discover Twin Rocks in El Nido, stunning rock formations, swim-throughs, and diverse marine life, an essential destination for all divers.
Twin Rocks: the "Stingray Airport"
Discover Twin Rocks, an extraordinary dive site in El Nido that lives up to its reputation as one of the best in the area. Its unique rock formations, including natural caverns and beautiful swim-throughs, have made it a favorite among divers.
Named "Twin Rocks" due to its two separated small island-like appearance from the surface, this site is an underwater paradise. Located on the North side of Miniloc Island, near the famous Small and Big Lagoon, Twin Rocks features a sloping terrain, ranging from 13 to 21 meters, with a sandy bottom. Within this sandy area, you'll encounter numerous blue-spotted stingrays and ribbon tails, which led to the endearing moniker "Stingray Airport" given by the Palawan Divers team.
Twin Rocks: A beautiful reef
Beyond its fame as the "Stingray Airport," Twin Rocks boasts breathtaking rock formations, including natural caverns and swim-throughs, adding to its allure. The reef is adorned with an abundance of table corals, sea whips, and sponges, creating a visually stunning underwater landscape.
For a unique and unforgettable experience, plan your dive between December and March, when Twin Rocks becomes the prime location in El Nido for spotting Ghost Pipefish. These intriguing creatures can be found in coral reefs or muddy bottoms, displaying the remarkable ability to change color and shape to blend in. Our experienced divemasters and instructors are adept at locating the famous Ornate or Harlequin Ghost Pipefish, ensuring an exciting encounter for all divers.
With its mesmerizing rock formations, diverse marine life, and the chance to spot the elusive Ghost Pipefish, Twin Rocks is undeniably one of the top dive sites in El Nido. Whether you are a beginner, a seasoned diver, or somewhere in between, Twin Rocks promises an unforgettable and rewarding diving experience.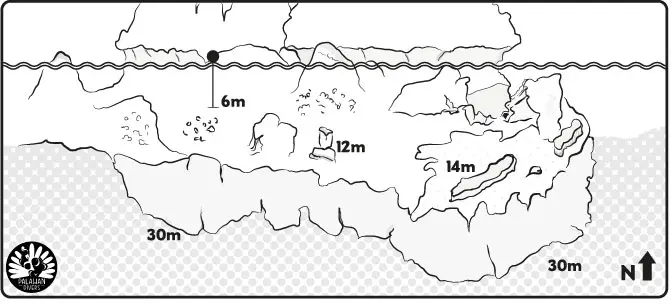 Twin Rocks: Diving Information
Depth: 5-25 meters
Visibility: 10-30 meters
Current: Occasional during full moon
Travel time: 45 minutes by boat
Best months: November to May
Get ready to encounter:
Giant Barrel Sponge • Tree Coral • Table Coral • Blue Spotted Stingray • Mantis Shrimp • Reef Octopus • Unicorn Fish • Crocodile Fish • Yellowtail Barracuda • Spadefish Fusilier • Sea Turtle • Moray Eel
Keep an eye out for Ornate Pipefish, Bumphead Parrotfish and Eagle Ray
Twin Rocks is undoubtedly one of the best dive sites in El Nido, offering a captivating underwater world for all divers. From beginners and students to experienced divers, everyone will find something to marvel at during their Twin Rocks adventure.